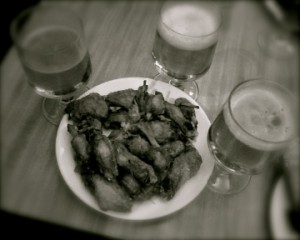 A few days ago I was having a beer with some good friends at Pepe el Guarro, an amazing place on the outskirts of the city. Straight to my top three tapas bar in Madrid with El Descanso and El Pezcador at Las Infantas street, for sure…
Among others, I was there with Jesús, a very old friend of mine, and Diego one of my coworkers. Jesús is one of the most talented graphic designers I have ever known. His way of looking at things from a whole new perspective is truly amazing. Design for him is everything and he always approaches things on an emotional and aesthetic manner. Still he is so pigheaded… Big time pigheaded. Diego is amazing too, but in a completely different way. Formerly a music teacher, he has reinvented himself as a technical solutions provider. He is a self-tough professional and he always put things to work through his Diegish approach: "If we want it, we'll be able to do it". I am so thankful for having him by my side.
Jesús is a Windows user.  After many years, he realized that he needs such an amount of professional software that there's no other way. Don't ask me what side is he at, but considering he is a Spaniard freelance you probably make a guess. Last time I went to his place he had about 200 software applications on his computer. And believe me, he actually uses all of them.
Diego cannot hear of Windows. He is a Linux user (Ubuntu 10.4 in particular) and a big fan on open-source software. Long time on the dark side, he confessed he can't remember the last time he cracked an app and that he will never do it again. He can't stand big corps so don't mention the possibility of using either Apple or Microsoft products.
I am a Mac user. I can't stand their "think different" shit but  for my stuff their machines work just better. They help me to reduce computer hours and they make them more pleasant. Enough.
We all three have tried extensively the three OS and then we decided. What I am bringing here is how we all three, being that different, we respect and understand each other. For my Anglo-Saxon friends this may be weird, but in Spain we love to entrenched in a particular point of view and go the Taliban way. I am right you are wrong, this is good this is bad, mine is bigger yours is smaller.
It happens all the time and it is particularly sad with the circle politics-entrepreneurship-society. Let me put it this way… Public administration learning from good private initiatives? Private projects (particularly with +50 years old bosses) with a true social spirit? Don't even mention it. Why is it that tough for us to bring things together, see the good contributions on the work of others and, specially, be open to new ways of thinking?