If you follow me, you know this blog is a good thermometer of how I'm feeling and how are things going. Even though since June I have been looking forward writing about the absolute revelation that has been going back to gardening (more on this on a separate post), I'll be dedicating this entry to some 2012 moments –that I didn't cover in the blog- by grabbing my Flickr/instagram stream.
There's nothing better than reflecting on how a year passed by checking out some pictures and realizing that besides difficulties, positive energy, love and enthusiasm is always out there.
Work
Just a brief one here to share that we met all the objectives for the year. Yeah! In june we ended up the first year of the Responsible Education Network of Schools scaling -and improving- the program from 3 to 16 schools with a teacher's satisfaction of almost 3/4. Right now we havescaled it up to 50, including 17 schools in Madrid.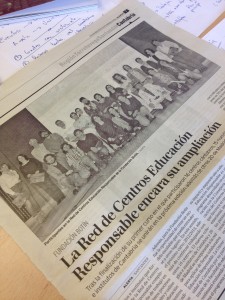 Mallorca
I keep going more and more to Mallorca. I just love it. Particularly Palma, this tiny version of Barcelona with all the scene, bars, trends and stuff but without all the Barcelona silliness (sorry to all my friends down there). Plus amazing weather and nature.
Here some images of Cap Formentor and L'antiquari and Sa Sifoneria. Could have bring so many more, but hope you get the vibe. Even surfing if you are lucky enough to grab some good conditions.
Turkey
Yep, this was in April as Emre (former San Francisco's big house mate) and Gerone were getting married in their hometown, Istambul. How could you say no to that?! Amazing time there staying at Sultanahmet partying at Beyoglu, crossing to Kadikoy and having such an experience.
Canfranc/Huesca
That was so unexpected… I was reached by the UIMP people at Huesca for presenting on a course on innovation in sports intuitions. I was a little shocked, but as they were expecting me to talk about tools and project management, I took the bite and actually loved it.
Canfranc Station is amazing. If you haven't been there you have to. Big rains there through these days made it even more epic.
Caravan 12
Wow, that was a good one… Don't know if the best Caravan ever but definitely a great one. Having there Virginia, my former mate at ITE, really made a difference. Actually the Madrid guys killed it if you know what I'm talking about.
Great music as always, with guys like Adrián & friends, Pablo, Pat and great surprises such as Laura Portko.
Galicia with mom
That was the last big trip done. I try to do one of those at least once a year with mom… And this one was a real treat. We went all the way to Cariño, in the Ortigueira area. There we stayed in A Miranda, a lovely B&B before hitting Bares, and having some amazing food in places like Rinlo (historic Arroz con Bogavante) and el Molín de Mingu in Peruyes.
I really wish you all happiness and strength for the year to come.
Be positive, be happy, do good, love and keep it real.
As I said, next one will be on the garden (the revelation).
Muacas!